Case Study 2:
Improvement of yield rate - Join the core with plunger
The combination of the plunger and the core is a key part in a solenoid to affect its performance - hysteresis and linearity...etc.
The main factor to affect them is this geometric tolerance of this combination. How to control this one in a mass production condition is a
extremely severe situation. The following introduces a new joining method to reduce this yield rate and remain a excellent performance.
The original design of this case show as follows:
| | |
| --- | --- |
| The original design in this case uses a interference fit to join a plunger and a core shown in the right figure. Due to the interference fit, the compression force is determined by the tolerance between this bore diameter and this outer diameter of the plunger. It forms an unstable condition affected by the tolerance, especially in mass production. It deeply affects the yield rate in a mass production line. | |
The known problem:

The geometric tolerance on both ends of a plunger has the distortion condition
In a bearing application, it has a "stick" condition with large friction force.
low down the yield rate at least 10%
unstable production
Improved joining method by SINS to achieve

this target:

| | |
| --- | --- |
| SINS uses a special joining method to combine this two parts together. By using a clearance fit joining, this distortion with large compression force would be reduced to the lowest level, then a compression force applied on both sides of a core, it forms a stick condition between them. In this condition, the plunger is no effect, and with excellent geometric tolerance - straight and concentricity. | |

Conclusion:
By using a new joining method, the yield rate was raised up to 100% with excellent geometric tolerances - straight < 0.005 and concentricity < 0.02...etc.
The cost has been reduced successfully and remain a good production line with high yield rate.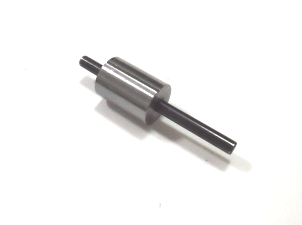 ---
Copyright SINS CO., LTD. 2012. All Rights Reserved.